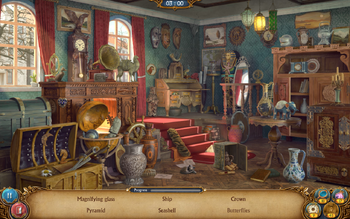 Antique Shop is a Hidden Object Location in the Seeker's Notes: Mysteries of Darkwood game. Appearing from the ghostly mists one day, the mysterious merchant and shop holds strange secrets.
Antique Shop was introduced to the game as part of the Merchant's Treasure event released on May, 2016. It comprised the first part of the update's Timed Challenges.
Antique Shop is the 22nd location to be added to the Darkwood Town map and is unlocked at Game Level 69. A Premium Location, it requires the access pass Brooch to enter and play.
Unlocking and Open Quest
Edit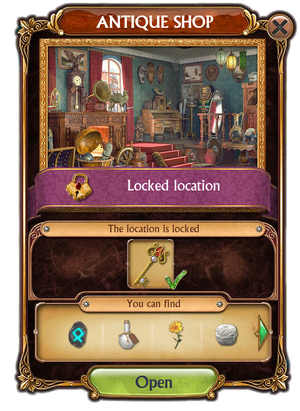 The Player unlocks Antique Shop upon reaching Game Level 60.
A quest is given to free the imprisoned merchant by finding the missing Antique Shop Key. Once you have the Key to Antique Shop, you can open the new Location. Tapping on the Icon for the Location on the Darkwood Town Map will bring up the 'Open' Window for the Location. Press 'Open' to play.
NOTE: During the special event challenge in May 2016, Antique Shop was open to Players level 11 or higher and required the access pass called Brooch to enter which was found by successfully exploring any of the other unlocked Hidden Object Locations. After the event ended, it remained a Premium Location.
Brooches can now be found by successfully winning any location and are free to gift from the 'Send' tab to friends.
The following is a list of Hidden Objects that can be found in Antique Shop. Depending on the Rank and Game Mode you may not have to find all the items in one play of the Location.
Barometer
Bow
Butterflies
Cactus
Camomile
Cat
Comb
Crescent
Crown
Drum
Duck
Fish
Flask
Heart
Horse
Magnifying Glass
Parrot
Pyramid
Seashell
Ship
Shiva Nataraja
Spyglass
Starfish
Stone Knife
Wind Rose
Morph mode has its own items that need to be found, separate from those listed above.
Collection Item Sets
Edit
Listed below are the Collection Item sets specific to the Antique Shop location. note a random special fixer is also awarded when a collection is combined for the first time.
| Collection Name | Item Created | Coins Earned | Rewards | Giftable Collection? |
| --- | --- | --- | --- | --- |
| Clay Figures | Clay Figures | 250 | Eyeglass x 1 | Yes |
| Mysterious Fragments | Meteorite Fragments | 250 | Lightning in a Bottle x 2 | Yes |
| Set from Helen | Hiking Set | 250 | All-Seeing Eye x 2 | Yes |
~~Please list any helpful hints here~~