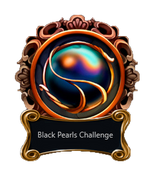 Black Pearls is a special mini challenge event in the Seeker's Notes: Hidden Mystery game. It is one of 3 standard Mini Events that the game periodically rolls out during the monthly special event Timed Challenges.
First introduced to the game in an August 2016 Update, the Black Pearls challenge is presented with the same three energy talisman rewards each time: the Seeker's Star, Fire Crystal, and Shot of Vigor.
On January 15, 2018 a new Black Pearls mini-event was released.
How to Play
Edit
This special mini-event challenge is available to players from game level 7 and up. Players have 7 days to complete this challenge and win the special rewards by collecting a certain amount of Black Pearls.
Black Pearls are hidden in each of the Hidden Object Locations, one Black Pearl per location. Remember to find the hidden Black Pearl before time runs out!
Please note that the Black Pearls cannot be discovered using a tool such as the Eyeglass or Lightning in a Bottle.
Challenge rewards:
Collect 25 Black Pearls to win 1 Seeker's Star - increases chance of finding collections & fixers by 90% for 2 hrs
Collect 125 Black Pearls to win 1 Fire Crystal - regenerates energy 10x faster for 2 hours
Collect 250 Black Pearls to win 1 Shot of Vigor- gives free energy for 1 hour
Gallery of Black Pearl Locations
Edit
Previous Black Pearls Mini Events
Edit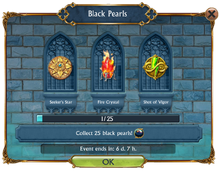 Below is a list of the previous Black Pearls mini-event challenges in the game.
January 15, 2018
November 14, 2017
October 16, 2017
September 10, 2017
August 21, 2017
July 24, 2017
June 29, 2017
May 30, 2017
April 20, 2017
March 24, 2017
February 27, 2017
September 23, 2016
August 18, 2016