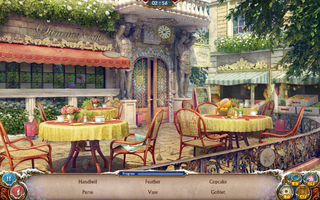 Cafe is the only Hidden Object Location that is open when you first start a new game of Seeker's Notes: Mysteries of Darkwood.
When starting a new game, a tutorial is given to introduce and familiarize the player with the game mechanics. Helen acts as the guide and walks the player through the Cafe location, explaining how to find the hidden objects as well as using the finding tools.
Cafe is the very first location to be added to the Darkwood Town Map and unlocks automatically through the tutorial.
The following is a list of Hidden Objects that can be found in Cafe. Depending on the Rank and Game Mode you may not have to find all the items in one play of the Location.
Arrow or Arrows
Bas-relief
Bell (also called "handbell")
Bow
Candlestick (single candle or candelabra)
Cat
Candy Dish
Carpet Bag
Cezve (small pot with handle)
Cheese
Cocktail Glass (martini)
Coffee Grinder
Comb
Cook's Hat
Cupcake
Dragonfly
Embroidery
Envelope
Eyeglasses ( no arms)
Fan (2 different types of hand fans can be shown)
Feather
Fern
Frying Pan
Goblet
Hat ( 2 different types)
Jewelry Box
Lantern
Layer Cake
Lock (heart shape)
Medal
Mellon
Mice figurine
Pince Nez (eyeglasses with round frames)
Pineapple
Pinwheel
Poster
Purse
Rose
Rugby Ball
Seashell (has a pearl in the middle)
Shoe
Sun (two different types possible)
Swan
Strawberry
Tamborine
Telephone
Tomtit (bird) (Also called "Blue Tit") (can be yellow or blue)
Toy Car (antique)
Tray
Vase
Violin
Walking Stick (shaped like a candy cane)
Watermelon
Weather Vane
~~Please add to this list if you can~~
As of 4/15/17 the following items did not appear or are not part of the search in the Cafe:
Apple
Bottle
Book
Bouquet
Cane
Carafe
Coffee Pot
Gloves
Gramophone
Ice Cream
Lollipop
Umbrella
Morph and Pieces modes have their own items that need to be found, separate from those listed above.
Collection Item Sets
Edit
Listed below are the Collection Item sets specific to the Cafe location. note a random special fixer is also awarded when a collection is combined for the first time.
| Collection Name | Item Created | Coins Earned | Rewards | Giftable Collection? |
| --- | --- | --- | --- | --- |
| Family Heirlooms | Mysterious Ring | 250 | Lightning in a Bottle x 1 | Yes |
| Combat Crossbow | Crossbow | 250 | Lucky Coin x 1 | Yes |
| Tasty Baked Goods | Layer Cake | 250 | Lightning in a Bottle x 2 | Yes |
HINT #1:
The "Pinwheel" in the Cafe, MAY be a Lollipop.
The Pinwheel in the Cafe is similar to the Lollipop in the Train Station. And there is a "Pinwheel" in another location, which I can't recall right now, that is a child's toy, NOT a Lollipop.
I assumed that Pinwheel in Cafe meant the child's toy, not a candy Lollipop.
I've lost twice on the Cafe because of this inconsistency, so I hope this helps someone else.
******************************************************