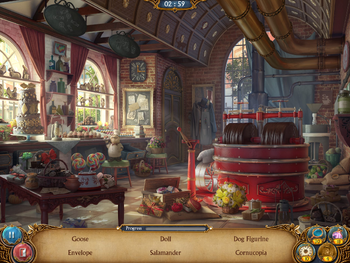 Candy World is a Hidden Object Location in the Seeker's Notes: Hidden Mystery game. Darkwood's beloved confectionery is besiged by sweet monsters attracted to the delightfully delicious smells of the shop!
Candy World was introduced to the game as part of the Enchanted Confectionery Update released on August 4, 2017 and comprised the first part of the update's Timed Challenges.
Candy World is the 39th location to be added to the Darkwood Town Map.
Unlocking and Open Quest
Edit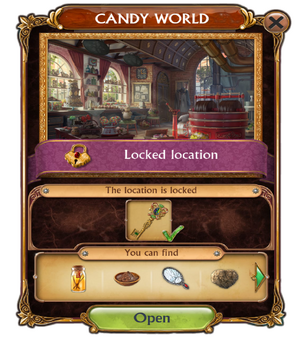 To unlock Candy World during the special event challenge, Players must be at Game Level 11 or higher.
A quest will be given by Helen to help Antoine the Confectioner find the missing Candy World Key to his shop. The Key is obtained by exploring any of the other unlocked Hidden Object Locations and successfully completing it.
Once unlocked, Candy World requires special item access passes to play. In addition to energy points, a certain number of the access pass called Chocolate Beans is required for each play of Candy World. The number of Chocolate Beans needed depends on the Rank of the Location.
Chocolate Beans can be found by successfully exploring any of the other unlocked Hidden Object Locations. Regular Locations such as Mayor's Office; Ballroom; Marketplace; Docks; Hunter's House; and Observatory award 3 to 5 Chocolate Beans upon successful completion. Premium Locations such as Clothing Store; Garden; Ship; and Old Square award 5 to 8 Chocolate Beans upon successful completion. Premium Locations are those which require special access items to enter.
The following is a list of Hidden Objects that can be found in Candy World. Depending on the Rank and Game Mode you may not have to find all the items in one play of the Location.
Bagel
Ball
Banana
Bread
Brush
Butterfly
Carrot
Cat
Champignon
Cherry
Christmas Tree
Cloud
Coffee Grinder
Coin Purse
Coil of Rope
Corn
Cotton Candy
Cornucopia
Crescent
Dog Figurine
Doll
Dragonfly
Drop
Eggplant
Envelope
Fish
Frying Pan
Gift
Glasses
Gloves
Goose
Hand Fan
Ice Cream
Jelly
Jug
Juice
Kiwifruit
Lemon
Letter A
Lightning
Lyre
Mask
Milk
Newspaper
Orange
Oven Mitt
Padlock
Paper Plane
Pea pod
Pepper
Piggy Bank
Pineapple
Pinwheel
Pot
Pretzel
Pumpkin
Rainbow
Salamander
Salt Shaker
Seahorse
Spaghetti
Star
Starfish
Teapot
Turtle
Unicorn
Watermelon
Wheat
Venus Symbol (or Female Symbol)
Morph mode has its own items that need to be found, separate from those listed above.
Collection Item Sets
Edit
Coming soon in the next update...
Item Hints

Cloud, Lightning, Star & Venus Symbol: seem to primarily occur as drawings on back wall & window.
Spaghetti: this is a plate of spaghetti & sauce.
Wheat: this is a sprig of natural wheat.
Cheese is the traditional cartwheel shape so far. Also seen as a wedge of swiss cheese (w/holes).
Ice cream is a cornet.
The following hints gallery is a work in progress.