Circus is a Hidden Object Location in the Seeker's Notes: Hidden Mystery game. Come join the fun under the Big Top and prepare to be amazed at the death defying feats!
Circus was first introduced by the Birds Update of the game released on April 6, 2017.
Circus is the 32nd location to be added to the Darkwood Town Map and requires a Game Level of 90 to unlock.
Diary Entry:
| | | |
| --- | --- | --- |
| " | The Circus is a place that brims with fun and laughter. Children are enraptured by the spectacular performances of acrobats, illusionists, and clowns. Even the adults briefly forget about their problems and the oppressive Curse hanging over the city. I really liked that Mayor Smallcat has allowed all children to attend it for free. This is really important for the little citizens. | " |
Unlocking and Open Quest
Edit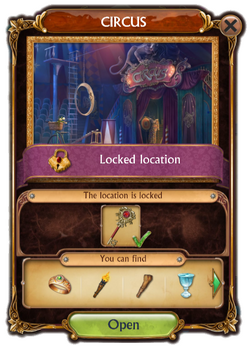 The Player unlocks Circus upon reaching Game Level 90.
A quest will be given by Ben to help find the missing Circus Key to open its jammed doors. The Key is obtained by exploring any of the other unlocked Hidden Object Locations and successfully completing it.
Once you have the Key to Circus, you can open the new Location.
Tapping on the Icon for the Location on the Darkwood Town Map will bring up the 'Open' Window for the Location. Press 'Open' to play.
Circus is a Regular Location, requiring only energy to play. The amount of Energy required to play will increase as the Location Rank of the room increases. During special event Timed Challenges, playing this location will yield 3 to 5 special event access pass keys per win.
The following is a list of Hidden Objects that can be found in Circus. Depending on the Rank and Game Mode you may not have to find all the items in one play of the Location.
Accordion
Ball
Clown Shoe
Club
Columbine
Elephant
Jack-in-the-Box
Kettlebell
Ladies Shoe
Lyre (Harp)
Mask
Megaphone
Monkey
Pierrot Hat
Poodle
Seal
Spade
Sun
Tiger
Treble Clef
Umbrella
XX
NOTE: Each hidden object item usually has 2 different versions that alternate randomly. Morph mode has its own items that need to be found, separate from those listed above.
Collection Item Sets
Edit
Listed below are the Collection Item sets specific to the Circus location. note a random special fixer is also awarded whenever a collection is combined.
~~Please list any helpful hints here~~