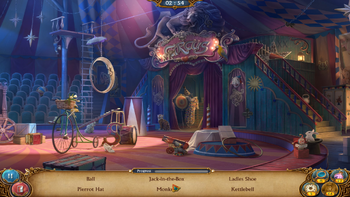 Circus is a Hidden Object Location in the Seeker's Notes: Mysteries of Darkwood game. Come join the fun under the Big Top and prepare to be amazed at the death defying feats!
Circus was first introduced by the April Spring Update of the game released on April 6, 2017.
Circus is the 32nd location to be added to the Darkwood Town Map and requires a Game Level of 90 to unlock.
Unlocking and Open Quest
Edit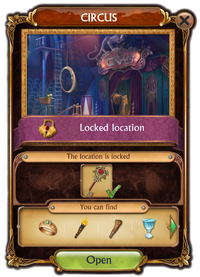 The Player unlocks Circus upon reaching Game Level 90.
A quest will be given by Ben to help find the missing Circus Key to open its jammed doors. The Key is obtained by exploring any of the other unlocked Hidden Object Locations and successfully completing it.
Once you have the Key to Circus, you can open the new Location. Tapping on the Icon for the Location on the Darkwood Town Map will bring up the 'Open' Window for the Location. Press 'Open' to play.
The location requires only a set amount of Energy to play. The amount of Energy required to play will increase as the Location Rank of the room increases.
The following is a list of Hidden Objects that can be found in Circus. Depending on the Rank and Game Mode you may not have to find all the items in one play of the Location.
Ball
Jack-in-the-Box
Kettlebell
Ladies Shoe
Megaphone
Monkey
Pierrot Hat
Sun
Umbrella
Seal
Spade
Club
Columbine
Poodle
Elephant
Clown Shoe
XX
Accordion
Treble Clef
Mask
Tiger
Lyre (Harp)
~~Please add to this list if you can~~
Morph mode has its own items that need to be found, separate from those listed above.
Collection Item Sets
Edit
Listed below are the Collection Item sets specific to the Circus location. note a random special fixer is also awarded when a collection is combined for the first time.
| Collection Name | Item Created | Coins Earned | Rewards | Giftable Collection? |
| --- | --- | --- | --- | --- |
| Clown Performance | Rod of Shadows | 0 | Club x2 | Yes |
| Carl Delacroix | Order | 0 | Flower x4 | Yes |
| Charlotte's Confession | Family Necklace | 0 | Grindstone x2 | Yes |
~~Please list any helpful hints here~~
Ad blocker interference detected!
Wikia is a free-to-use site that makes money from advertising. We have a modified experience for viewers using ad blockers

Wikia is not accessible if you've made further modifications. Remove the custom ad blocker rule(s) and the page will load as expected.