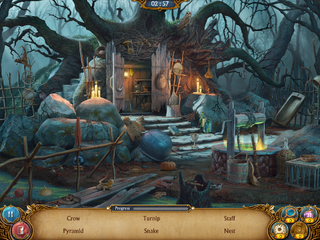 Dark Forest is a Hidden Object Location in the Seeker's Notes: Mysteries of Darkwood game. Dark Forest was introduced to the game as part of the Valentine's Update (February 2016).
To unlock Dark Forest, you must be at Game Level 51 or higher.
Unlocking and Open Quest
Edit
Dark Forest unlocks when a player reaches a Game Level of 51.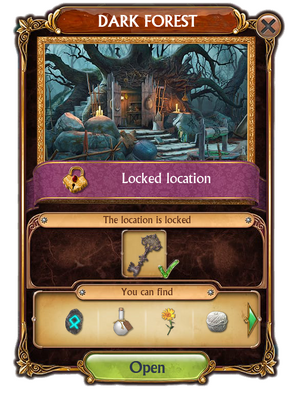 A Quest will start to find the Key to the Dark Forest. Once this Quest starts, you may have to win multiple games of the Location before you successfully get the Key to Dark Forest as one of the rewards for winning.
Once you have the Key to Dark Forest, you can open the new Location. Tapping on the Icon for the Location on the Darkwood Town Map will bring up the 'Open' Window for the Location. The requirements to open the Location are listed here. The requirements are usually a Key for the Location; a set amount of Energy and a number of Coins.
To Open Dark Forest you need the Key.
The following is a list of Hidden Objects that can be found in Dark Forest. Depending on the Rank and Game Mode you may not have to find all the items in one play of the Location.
Apple
Belt
Crow
Crystal Ball
Death Cap
Goblet
Knife
Ladle
Lizard
Mirror
Nest
Owl
Picture
Pumpkin
Pyramid
Sickle
Snake
Staff
Straw Doll
Toad
Trap
Turnip
Wand
Wheel
Witch's hat
Morph mode has its own items that need to be found, separate from those listed above.
Collection Item Sets
Edit
Listed below are the Collection Item sets specific to the House of Toys Location. note a random special fixer is also awarded when a collection is combined for the first time.
Coming Soon...