Dark Square is a Hidden Object Location in the Seeker's Notes: Mysteries of Darkwood game. An abandoned square emitting a strange ghostly glow and where dark creatures gather at night, unlock its gates and solve the mystery!
Dark Square was introduced to the game as part of the Mystery of the Dark Square event released on October 7, 2016 to celebrate Halloween. It comprised the first part of the update's Timed Challenges.
Dark Square is the 25th location to be added to the Darkwood Town map and is unlocked at Game Level 69.
Unlocking and Open Quest
Edit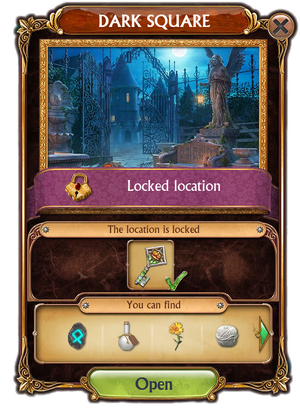 The Player unlocks Dark Square upon reaching Game Level 69.
A quest is given by Helen to find the lost Dark Square Key. Once you have the Key to Dark Square, you can open the new Location. Tapping on the Icon for the Location on the Darkwood Town Map will bring up the 'Open' Window for the Location. Press 'Open' to play.
NOTE: During the special event challenge in October, Dark Square was open to Players level 11 or higher and required the access pass called Seeker's Candle to enter. However, with the November Enchanted Harvest Update, Dark Square became a regular location and no longer required special access items to play, only energy.
The following is a list of Hidden Objects that can be found in Dark Square. Depending on the Rank and Game Mode you may not have to find all the items in one play of the Location.
Armillary Sphere
Brooch
Broom
Butterfly
Candied Apple
Casket
Cat
Cauldron
Cobweb
Cogwheel
Crow
Crystal
Flask
Gold Dragonfly
Helmet
Horseshoe
Hourglass
Magic Ball
 Owl
Postcard
Scales
Spider
Stained Glass
Witch Silhouette
Witch's Hat
Morph mode has its own items that need to be found, separate from those listed above.
Collection Item Sets
Edit
Listed below are the Collection Item sets specific to the Dark Square location. note a random special fixer is also awarded when a collection is combined for the first time.
~~Please list any helpful hints here~~