Docks is a Hidden Object Location in the Seeker's Notes: Mysteries of Darkwood game. A once bustling seaport now hidden in mist, where ships can no longer leave!
The Lost Treasury Update significantly changed the appearance of the location with the addition of new art and new hidden objects to Docks. Many of the previous hidden objects were either renamed, removed, or redrawn by the update.
Docks is the 9th location to be added to the Darkwood Town map and Players must be at Game Level 21 or higher to unlock it.
Unlocking and Open Quest
Edit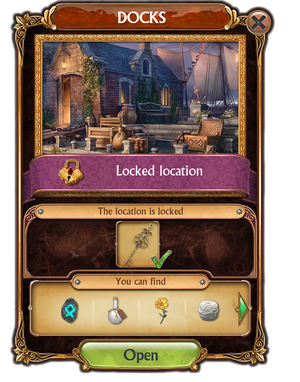 Docks unlocks when a player reaches a Game Level of 21.
A Quest will start to find the Key to Docks. The Docks Key Quest is completed by exploring any of the other unlocked Hidden Object Locations and successfully winning the key as one of the rewards.
Once you have the Key to Docks, you can open the new Location. Tapping on the Icon for the Location on the Darkwood Town Map will bring up the 'Open' Window for the Location.
The location requires only a set amount of Energy to play. The amount of Energy required to play will increase as the Location Rank of the room increases.
NOTE: Previously, to Open Docks you needed 14000 coins and 31 energy points in addition to the Key. Now you only need the Key to unlock the location.
The following is a list of Hidden Objects that can be found in Docks. Depending on the Rank and Game Mode you may not have to find all the items in one play of the Location.
Bell
Bellows
Cabin Boy's Hat
Crab
Crescent
Diving helmet
Drum
Globe
Harpoon
Hourglass
Jellyfish Silhouette
Megaphone
Octopus Figurine
Parrot
Seagull
Seahorse
Seashell
Spyglass
Starfish
Stool
Tambourine
Toy Lighthouse
Trident (pitchfork)
Turtle Silhouette
World Map
Morph mode has its own items that need to be found, separate from those listed above.
Collection Item Sets
Edit
Listed below are the Collection Item sets specific to the Docks location. note a random special fixer is also awarded when a collection is combined for the first time.
Leprechaun Coin Locations
Far left edge of wall
Behind the hook hanging in front of the arch on the right
In the ivy behind the lamppost
Bottom of the open gate near the crate edge
Between the bench slats on the left
Between the top and bottom slat of the pallet on the ground
In a hole in the sheet on the right
On the left edge of the light of the lamppost
On the top edge of the small box on the stairs