Dressing Room is a Hidden Object Location in the Seeker's Notes: Mysteries of Darkwood game.
The August 2016 update to the game made significant changes to the location. New art and new items were added, giving the room a darker tone.
Dressing Room is the 10th Location to be added to the Darkwood Town Map and requires a Game Level of 24 to unlock. It is a Premium Location, meaning that the Player must have a sufficient number of Theater Tickets to enter and play
Unlocking and Open Quest
Edit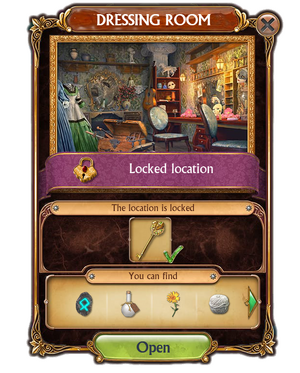 The Player unlocks Dressing Room upon reaching Game Level 24.
A Quest will start to find the Key to the Dressing Room. The Dressing Room Key is obtained by exploring any of the other unlocked Hidden Object Locations and successfully completing it.
Once you have the Key to Dressing Room, you can open the new Location. Tapping on the Icon for the Location on the Darkwood Town Map will bring up the 'Open' Window for the Location. The requirements to open the Location are listed here. The requirements are usually a Key for the Location.
Dressing Room is one of three Hidden Object Locations that require special items to play. In addition to energy points, the access pass named Theater Ticket is required for each play of Dressing Room. The number of Theater Tickets needed depends on the Rank of the Location. Theater Tickets can be given as rewards for successfully exploring any of the other Hidden Object Locations, it can received as free gifts from Friends or it can be purchased in the Store.
NOTE: Previously, to open Dressing Room you needed 15000 coins and 34 energy points in addition to the Key. Now you only need the Key and energy.
The following is a list of Hidden Objects that can be found in Dressing Room. Depending on the Rank and Game Mode you may not have to find all the items in one play of the Location.
Ballet Dancer
Billiard Ball
Binoculars
Book
Bow
Corkscrew
Cushion
Glove
Grapes
Hairpin
Hat
Horseshoe
Jug
Key
Maple Leaf
Owl
Puppet
Ruby
Umbrella
Wooden Sword
Morph mode has its own items that need to be found, separate from those listed above.
Collection Item Sets
Edit
Listed below are the Collection Item sets specific to the Dressing Room Location. note a random special fixer is also awarded when a collection is combined for the first time.
| Collection Name | Item Created | Coins Earned | Rewards | Giftable Collection? |
| --- | --- | --- | --- | --- |
| Hunting Traps | Trap | 250 | Torch x2 | Yes |
| Bowl of Cookies | Bowl of Cookies | 250 | Magic Lantern x2 | Yes |
| Musical Instruments | Lute | 250 | Belgian Waffles x1 | Yes |
| Ancient Treasures | Unearthed Chest | 250 | Flying Time x5 | Yes |
Coming Soon...
Ad blocker interference detected!
Wikia is a free-to-use site that makes money from advertising. We have a modified experience for viewers using ad blockers

Wikia is not accessible if you've made further modifications. Remove the custom ad blocker rule(s) and the page will load as expected.