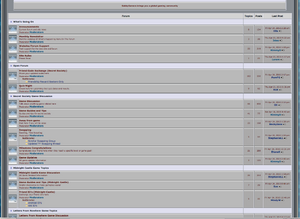 GabbyGamers.com (formerly The Secret Society Secrets Forum) is a player run forum that was founded in November 2014. Originally dedicated to the Secret Society game, Gabby Gamers has branched out to include many other popular hidden object games such as Midnight Castle, Letters From Nowhere HD, and Hidden Objects: Mystery Society HD, and now also Seeker's Notes: Mysteries of Darkwood.
The forum itself provides game guides, tips and tricks for playing Seeker's Notes: Mysteries of Darkwood, but is probably best known for the very friendly, welcoming and supportive community that has grown there. Beyond the active discussion areas players can also get to know each other through their Chat box, Voice chat and quiz nights.
Ad blocker interference detected!
Wikia is a free-to-use site that makes money from advertising. We have a modified experience for viewers using ad blockers

Wikia is not accessible if you've made further modifications. Remove the custom ad blocker rule(s) and the page will load as expected.