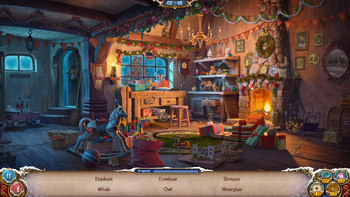 House of Toys is a Hidden Object Location in the Seeker's Notes: Mysteries of Darkwood game. It is the home of the master craftsman toymaker Nicholas and his son Peter, filled with the magic of Christmas and full of magnificent toys. But the key to the house has been lost amid the holiday work rush!
Introduced to the game as part of the 2016 Christmas Update The Snowy Fairy Tale, it comprised the first part of the update's timed challenges. Access to House of Toys was locked until the Christmas Update went live on December 7, 2016.
House of Toys is the 27th location to be added to the Darkwood Town map and is unlocked at Game Level 78.
Unlocking and Open Quest
Edit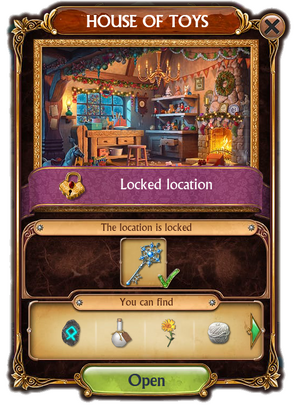 To unlock House of Toys, Players must be at
Game Level
11 or higher during the special event challenge. A quest will be given by Helen to find the missing House of Toys Key. The Key can be found by searching any of the other unlocked Hidden Object Locations and successfully completing it.
Once unlocked, the House of Toys requires special items to play. In addition to energy points, a certain number of Golden Bells are required for each play of House of Toys. The number of Golden Bells needed depends on the Rank of the Location. Golden Bells can be found by successfully exploring any of the other unlocked Hidden Object Locations.
Regular Locations such as 
Mayor's Office
;
Ballroom
;
Marketplace
;
Docks
;
Hunter's House
; and
Observatory
award 3 to 5 Golden Bells upon successful completion. Premium Locations such as 
Clothing Store
;
Garden
;
Ship
; and
Old Square
award 5 to 8 Golden Bells upon successful completion. Premium Locations are those that require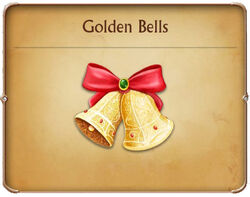 special access items to enter.
UPDATE: With the 2017 February Update, House of Toys remained a Premium Location requiring Golden Bells to play and Players must now be at Level 78 to unlock the location.
The following is a list of Hidden Objects that can be found in House of Toys. Depending on the Rank and Game Mode you may not have to find all the items in one play of the Location.
Angel
Cannon
Chisel
Crescent
Crown
Dust pan
Elephant
Envelope
Fish
Gingerbread House
Giraffe
Hand Plane
Hare
Hedgehog
Hourglass
Kettle
Lion
Lollipop
Nanny Goat
Number 17
Mallet
Map
Mask
Mug
Owl
Parrot
Peg-top
Pillow
Saw
Shield
Ship's Wheel
Shotgun
Silver Tray
Snowman
Swan
Sword
Tambourine
Vase
Viking Helmet
Whale
Morph mode has its own items that need to be found, separate from those listed above.
Collection Item Sets
Edit
Listed below are the Collection Item sets specific to the House of Toys location. note a random special fixer is also awarded when a collection is combined for the first time.
| Collection Name | Item Created | Coins Earned | Rewards | Giftable Collection? |
| --- | --- | --- | --- | --- |
| Archeologist Costume | Archeologist's Tool Set | 250 | Eyeglass x1 | Yes |
| Robber's Traces | Charlotte's Diary | 500 | Sphere of Darkness x3 | Yes |
| Left Messages | Anonymous Letter | 500 | Torch x7 | Yes |
Coming Soon...
Ad blocker interference detected!
Wikia is a free-to-use site that makes money from advertising. We have a modified experience for viewers using ad blockers

Wikia is not accessible if you've made further modifications. Remove the custom ad blocker rule(s) and the page will load as expected.