Lair is a Hidden Object Location in the Seeker's Notes: Hidden Mystery game.
Lair was introduced to the game as part of the 2017 Halloween Scary Pranks Update released  on October 6th, 2017 and comprises the first part of the update's Timed Challenges.
Lair is the 43rd location to be added to the Darkwood Town Map.
Diary Entry:
| | | |
| --- | --- | --- |
| " | Colonel Hammerstike's squad of volunteers always strives to maintain order in the city. The brave men found a lair of gremlins in an old abandoned house and drove out the annoying monsters. For safety reasons, the colonel ordered the place locked up, but the story had an unexpected and frightening continuation. The townspeople began to claim that ghosts had settled in the empty house. | " |
Unlocking and Open Quest
Edit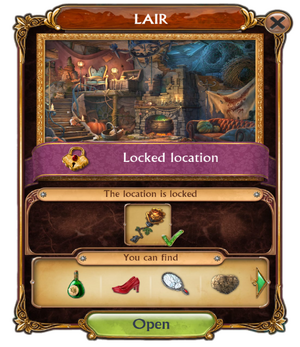 Lair unlocks at Game Level 123.
During the Scary Pranks special event challenge, Players level 11 or higher were able to unlock this event location.
A quest will be given by Colonel Hammerstrike to help to find the key for Lair. The Key is obtained by exploring any of the other unlocked Hidden Object Locations and successfully completing it. Once found, Helen will give Players a set of 10 Gremlin Potion Access Passes to start.
For the duration of the challenge, Lair requires special item access passes to play. In addition to energy points, a certain number of the access pass called Gremlin Potion is required for each play of Lair. The number of Gremlin Potion needed depends on the Rank of the Location.
Once the event ended with the 2017 November Update, Lair still requires Special Items/ Access Passes to play. Lair is now a Premium Location.
Gremlin Potion may now be obtained in the following ways: as a reward for successfully exploring any of the other unlocked Hidden Object Locations, both Regular Locations which require only energy to access such as Mayor's Office and Premium Locations which require special items to access such as Clothing Store; by combining collections such as the Way to Salvation Collection; and received as Free Gifts from Friends.
The following is a list of Hidden Objects that can be found in Lair. Depending on the Rank and Game Mode you may not have to find all the items in one play of the Location.
Bat
Birdcage
Boot
Broom
Cactus
Crescent
Crown
Crystal
Dagger
Forget-me-nots
Hourglass
Lion
Lollipop
Magic Ball
Moth
Mushroom
Owl Figurine
Phial of Potion
Raven
Scarf
Sickle
Sock
Teapot
Witch's Hat
Wooden Ghost
Additional items that appear after reaching the Virtuoso level.
Ax
Ball of Yarn
Black Rose
Bottle
Bunch of Garlic
Cat
Claw
Doll
Dragon Egg
Firework
Gingerbread Man
Glass Eye
Jewelry Box
Lock
Mask
Mirror
Mouse
Pie
Pinecone
Pitchfork
Postcard
Pretzel
Scorpion
Spider Brooch
Wreath
NOTE: Each hidden object item usually has 2 different versions that alternate randomly. Morph mode has its own items that need to be found, separate from those listed above.
Collection Item Sets
Edit
Listed below are the Collection Item sets specific to the Lair location. note a random special fixer is also awarded whenever a collection is combined.
| Collection Name | Item Created | Coins Earned | Rewards | Giftable Collection? |
| --- | --- | --- | --- | --- |
| Carl's Apology | Basket of Gifts | 0 | Flask of Fireflies x 2 | Yes |
| Plant Disease | Healer Bug | 0 | Flying Time x 2 | Yes |
| Richard Wood | Wooden Folio | 0 | Head Mirror x 2 | Yes |
| Problem-Solving | Delacroix's Plan | 0 | Sentinel's Horn x 2 | Yes |
~~Please list any helpful hints here~~