Library is a Hidden Object Location in the Seeker's Notes: Mysteries of Darkwood game.
Unlocking and Open Quest
Edit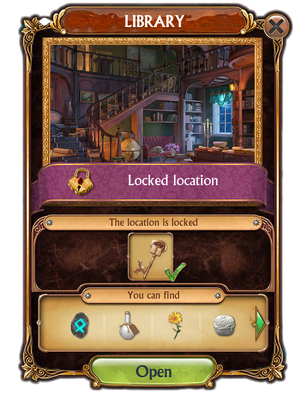 The following is a list of Hidden Objects that can be found in Library. Depending on the Rank and Game Mode you may not have to find all the items in one play of the Location.
Bird
Bird Cage
Bookmark
Calendar
Coil of Rope
Decanter
Feather Duster
Folder
Glass
Glass of Candies
Inkwell
Jewelry Box
Letter Sign
Owl Figurine
Paintbrushes
Palette
Plaid
Ruler
Stack of Newspapers
Statuette
Table Clock
Table Lamp
Typewriter
Umbrella
Watercolors
Coming Soon...
Ad blocker interference detected!
Wikia is a free-to-use site that makes money from advertising. We have a modified experience for viewers using ad blockers

Wikia is not accessible if you've made further modifications. Remove the custom ad blocker rule(s) and the page will load as expected.