Mayor's Office is the first Hidden Object Location that a player unlocks open upon starting a new game of Seeker's Notes: Mysteries of Darkwood. As a sinister figure hovers over a slumped and prone Mayor before vanishing, Helen asks for help in reviving him!
The art for Mayor's Office was redrawn slightly in an August 2016 update of the game.
Mayor's Office is the second location to be added to the Darkwood Town Map and is unlocked at Game Level 2.
Unlocking and Open Quest
Edit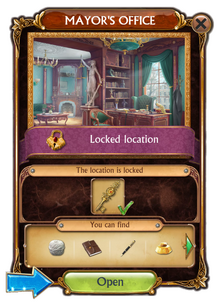 Mayor's Office unlocks when a player reaches a Game Level of 2.
A Quest will start to find the missing Key to the Mayor's Office. The Mayor's Office Key Quest directs the Player to search Cafe. The Key is obtained by successfully exploring the Location.
Once you have the Key to the Mayor's Office, you can open the new Location. Tapping on the Icon for the Location on the Darkwood Town Map will bring up the 'Open' Window for the Location. Press 'Open' to play.
The location requires only a set amount of Energy to play. The amount of Energy required to play will increase as the Location Rank of the room increases.
Note: The game tutorial will walk the Player step by step through this level.
The following is a list of Hidden Objects that can be found in Mayor's Office. Depending on the Rank and Game Mode you may not have to find all the items in one play of the Location.
Bell
Bow Tie
Brush
Carafe
Compass
Dagger
Door plate
Envelope
Fabergé egg
Fan
Flag
Globe
Gloves
Goblet
Griffin
Handkerchief
Helmet
Ink Blotter
Inkwell
Jug
Keys
Letter "A"
Lighthouse
Lock
Magnifying Glass
Mallet
Mask
Medal
Pear
Pillow
Pistol
Playing Card
Quill
Saber
Scissors
Scroll
Ship
Shoes
Smoking Pipe
Spyglass
Sun
Swan
Teapot
Top Hat
Typewriter
Weight
World Map
New Items Added (Rank: Detective or Higher)
Ballet Dancer
Belt
Binoculars
Bugle
Coffee Grinder
Coin
Comb
Conch
Dustpan
Fire Iron
Glasses
Gramophone
Hare
Horn
Letter Opener
Medallion
Medicine
Necktie
Ottoman
Package
Shell
Shoehorn
Straight Razor
Trash Can
Tray
Tray
Violin
Morph mode has its own items that need to be found, separate from those listed above.
Collection Item Sets
Edit
Listed below are the Collection Item sets specific to the Mayor's Office location. note a random special fixer is also awarded when a collection is combined for the first time.
| Collection Name | Item Created | Coins Earned | Rewards | Giftable Collection? |
| --- | --- | --- | --- | --- |
| Stationery Kit | Stationery Kit | 250 | Owl Figurine x1 | Yes |
| Mysterious Box | Leather Diary | 250 | Eyeglass x1 | Yes |
| Reporter's Satchel | Reporter's Satchel | 250 | Eyeglass x1 | Yes |
Don't forget to look out the window!
The grandfather clock can give more than the time