Mine is a Hidden Object Location in the Seeker's Notes: Mysteries of Darkwood game. Mine was introduced to the game as part of the Christmas Update (November 2015).
To unlock Mine, you must be at Game Level 45 or higher.
Unlocking and Open Quest
Edit
Mine unlocks when a player reaches a Game Level of 45.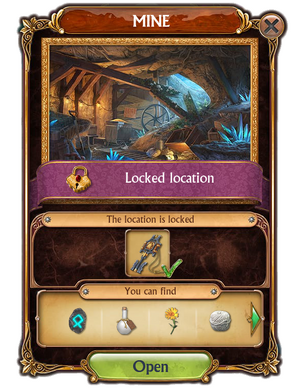 A Quest will start to find the Key to the Mine. The Mine Key Quest asks the player to win Hidden Object games of Clock Tower. Once this Quest starts, you may have to win multiple games of the Location before you successfully get the Key to Mine as one of the rewards for winning.
Once you have the Key to Mine, you can open the new Location. Tapping on the Icon for the Location on the Darkwood Town Map will bring up the 'Open' Window for the Location. The requirements to open the Location are listed here. The requirements are usually a Key for the Location.
In the past you needed 110,000 coins and 55 energy points in addition to the Key.
The following is a list of Hidden Objects that can be found in Mine. Depending on the Rank and Game Mode you may not have to find all the items in one play of the Location.
Arrow
Ax
Bat
Bell
Boot
Bugle
Can
Canary
Cave Drawing
Chest
Coal
Detonator
Dynamite
Goggles
Helmet
Horseshoe
Hourglass
Jug
Kettle
Knapsack
Lunch Bucket
Map
Runes
Shackles
Torch

Morph mode has its own items that need to be found, separate from those listed above.
Collection Item Sets
Edit
Listed below are the Collection Item sets specific to the Mine Location. note a random special fixer is also awarded when a collection is combined for the first time.
The following gallery is a work in progress. Not all items have been located yet.