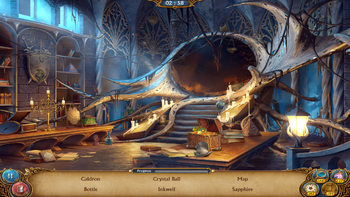 Mirror Hall is a Hidden Object Location in the Seeker's Notes: Mysteries of Darkwood game. A secret hall belonging to a powerful sorceror has been unearthed in an ancient castle. Untangle the mysteries within and free the town from a horrible spell!
Mirror Hall was introduced to the game as part of the Sorcerer's Spell Update on May 9, 2017 and comprised the first part of the update's Timed Challenges.
Mirror Hall is the 35th location to be added to the Darkwood Town Map.
Unlocking and Open Quest
Edit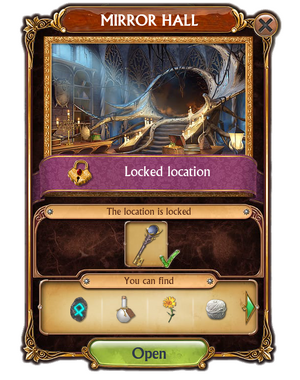 To unlock Mirror Hall during the special event challenge, Players must be at Game Level 11 or higher.
A quest will be given by Anna Sherwood to help find the missing Mirror Hall Key to open its doors. The Key is obtained by exploring any of the other unlocked Hidden Object Locations and successfully completing it.
During the challenge, once unlocked, Mirror Hall requires special item access passes to play. In addition to energy points, a certain number of the access pass called Mirror Shard is required for each play of Mirror Hall. The number of Mirror Shards needed depends on the Rank of the Location.
Mirror Shards can be found by successfully exploring any of the other unlocked Hidden Object Locations. Regular Locations such as Mayor's Office; Ballroom; Marketplace; Docks; Hunter's House; and Observatory award 3 to 5 Mirror Shards upon successful completion. Premium Locations such as Clothing Store; Garden; Ship; and Old Square award 5 to 8 Mirror Shards upon successful completion. Premium Locations are those which require special access items to enter.
NOTE: With the 2017 June Update, Mirror Hall is now a Regular Location and no longer requires Mirror Shards to enter. Players must now be at level 99 to unlock it. A new set of Collection Items was added as well.
The following is a list of Hidden Objects that can be found in Mirror Hall. Depending on the Rank and Game Mode you may not have to find all the items in one play of the Location.
Apple
Birdcage
Bottle
Bat
Cauldron
Crystal Ball
Fabergé Egg
Glove
Helmet
Horn
Inkwell
Jug
Keys
Magic lamp
Map
Pestle & Mortar
Owl
Sack
Sanctuary Lamp
Sapphire
Scorpion
Seashell
Shoe
Spear Tip
Morph mode has its own items that need to be found, separate from those listed above.
Collection Item Sets
Edit
Listed below are the Collection Item sets specific to the Mirror Hall location. note a random special fixer is also awarded when a collection is combined for the first time.
| Collection Name | Item Created | Coins Earned | Rewards | Giftable Collection? |
| --- | --- | --- | --- | --- |
| Museum Donations | Census Book | 0 | Flask x5 | Yes |
| Wedding Preparation | The Groom's Suit | 0 | Owl Figurine x1 | Yes |
| Bridal Gown | Wedding Dress | 0 | Eyeglass x1 | Yes |
| Suspicious Finds | Carl's Vessel | 0 | Rune x5 | Yes |
Please see the Timed Challenges page.
Ad blocker interference detected!
Wikia is a free-to-use site that makes money from advertising. We have a modified experience for viewers using ad blockers

Wikia is not accessible if you've made further modifications. Remove the custom ad blocker rule(s) and the page will load as expected.