Museum is a Hidden Object Location in the Seeker's Notes: Hidden Mystery game. Curating the entire history of the city, the Museum of Darkwood houses a vast collection of strange and wonderful artefacts documenting Darkwood's story from its humble beginnings to the Cursed present. Open the doors and immerse yourself in its wonders and delve into the murky depths of the City's history!
Museum was first introduced by the version 1.12.5 Update of the game released on January 11, 2017.
Museum is the 27th location to be added to the Darkwood Town Map and requires a Game Level of 75 to unlock.
Diary Entry:
| | | |
| --- | --- | --- |
| " | The Museum of Darkwood covers the entire history of the city. It holds chronicles of the founders, unimaginable ancient artifacts, and other curious exhibits. You can always come across something interesting in the Museum. All these antique things are like a bridge connecting us to the city's past. | " |
Unlocking and Open Quest
Edit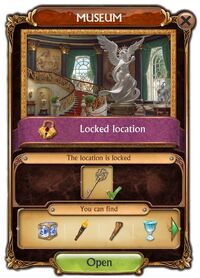 The Player unlocks Museum upon reaching Game Level 75.
A quest will be given by Helen to find the missing Museum Key to open its doors. The Key is obtained by exploring any of the other unlocked Hidden Object Locations and successfully completing it.
Once you have the Key to Museum, you can open the new Location.
Tapping on the Icon for the Location on the Darkwood Town Map will bring up the 'Open' Window for the Location. Press 'Open' to play.
Museum is a Regular Location, requiring only energy to play. The amount of Energy required to play will increase as the Location Rank of the room increases.
During special event Timed Challenges, playing this location will yield 3 to 5 special event access pass keys per win.
The following is a list of Hidden Objects that can be found in Museum. Depending on the Rank and Game Mode you may not have to find all the items in one play of the Location.
Amber
Battle Ax
Bull
Butterfly
Candelabra
Chalice
Clock
Compass Rose
Crown
Dog
Dragon
Eagle
Fish
Flower
Hand Fan
Letter M
Lion
Jewelry Box
Mask
Necklace
Plate
Portrait
Ship
Sphinx
Sun
NOTE: Each hidden object item usually has 2 different versions that alternate randomly. Morph mode has its own items that need to be found, separate from those listed above.
Collection Item Sets
Edit
Listed below are the Collection Item sets specific to the Museum location. note a random special fixer is also awarded whenever a collection is combined.
Coming Soon ...