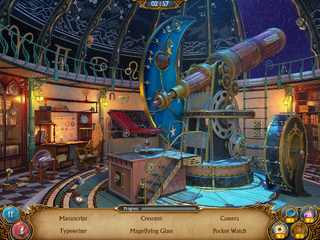 Observatory is a Hidden Object Location in the Seeker's Notes: Mysteries of Darkwood game.
To unlock Observatory, you must be at Game Level 30 or higher.
Unlocking and Open Quest
Edit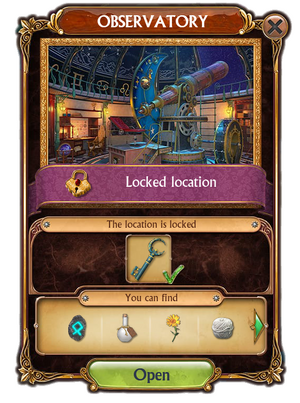 Observatory unlocks when a player reaches a Game Level of 30.
A Quest will start to find the Key to the Observatory. The Observatory Key Quest asks the player to win Hidden Object games of Train Station. Once this Quest starts, you may have to win multiple games of the Location before you successfully get the Key to Observatory as one of the rewards for winning.
Once you have the Key to Observatory, you can open the new Location. Tapping on the Icon for the Location on the Darkwood Town Map will bring up the 'Open' Window for the Location. The requirements to open the Location are listed here. The requirements are usually a Key for the Location.
In the past you needed 45000 coins and 40 energy points in addition to the Key.
The following is a list of Hidden Objects that can be found in Observatory. Depending on the Rank and Game Mode you may not have to find all the items in one play of the Location.
Abacus
Alarm Clock
Camera
Cat Figurine
Chessboard
Compass
Crescent
Crystal Ball
Glasses
Manuscript
Magnet
Magnifying Glass
Medal
Microscope
Morse Code
Oil Can
Phonograph
Pocket Watch
Protractor
Punch Card
Pyramid
Stargazer's Cap
Sun
Typewriter
Vial
Morph mode has its own items that need to be found, separate from those listed above.
Leprechaun Coin Locations
On a gear on the telescope
Behind a wall sconce on the left
Behind the lower gears of the telescope
On the right door of the glass cabinet on the left side of the room
On the highest rung of the ladder at the high end of the telescope
To the left edge of the upper cabinet on the right
Collection Item Sets
Edit
Listed below are the Collection Item sets specific to the Observatory location. note a random special fixer is also awarded when a collection is combined for the first time.
| Collection Name | Item Created | Coins Earned | Rewards | Giftable Collection |
| --- | --- | --- | --- | --- |
| Chemistry Set | Chemistry Set | 250 | Magic Lantern x 1 | Yes |
| Herbal Tea | Herbal Tea | 250 | Eyeglass x 2 | Yes |
| Sports Equipment | Leather Ball | 250 | Lightning in a bottle x 3 | Yes |
Coming Soon...