Old Square is a Hidden Object Location in the Seeker's Notes: Mysteries of Darkwood game. Behind the broken walls of a ruined mansion hides the strange tale of a mysterious missing merchant!
Old Square was introduced to the game as part of the Ghosts of the Past Update released on April 4, 2016 and comprised the main part of the update's timed challenges.
Old Square is the 21st location to be added to the Darkwood Town Map and requires a Game Level of 57 to unlock.
Unlocking and Open Quest
Edit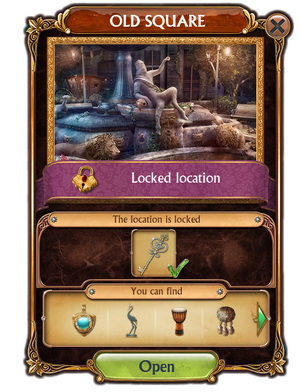 The Player unlocks Old Square at Game Level 57. During the special event challenge in April 2016, the location was open to Players level 7 or higher.
A quest will be given by Helen to find the missing Old Square Key to open its gates. The Key is obtained by exploring any of the other unlocked Hidden Object Locations and successfully completing it.
Once unlocked, Old Square requires special items to play. In addition to energy points, the access pass named Lock is required for each play of Old Square. The number of Locks needed depends on the Rank of the Location.
Locks can be given as rewards for successfully exploring any of the other unlocked Hidden Object Locations, both Regular Locations which require only e
nergy to access such as 
Mayor's Office
and Premium Locations which require special items to access such as 
Clothing Store
. Locks can also be received as
Free Gifts
from Friends.
The following is a list of Hidden Objects that can be found in Old Square. Depending on the Rank and Game Mode you may not have to find all the items in one play of the Location.
Boat
Boot
Broom
Butterfly Net
Camera
Cat
Chest
Cradle
Cross
Hand Fan
Grapes
Horn
Kettle
Lock
Mirror
Moth
Pointe Shoes
Raven
Scroll
Shoe
Silhouette
Teddy Bear
Tricorne
Weights
Wreath
Morph mode has its own items that need to be found, separate from those listed above.
Collection Item Sets
Edit
Listed below are the Collection Item sets specific to the Old Square location. note a random special fixer is also awarded when a collection is combined for the first time.
Coming Soon...