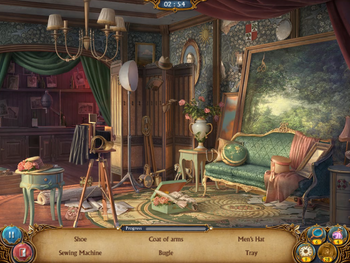 Photo Studio is a Hidden Object Location in the Seeker's Notes: Mysteries of Darkwood game. What mysterious event forced the closure of this lovely photographer's studio? Help Anna Sherwood restore the place to its former glory and invite the public in once again!
Photo Studio was first introduced by the June Update of the game released on June 8, 2017.
Photo Studio is the 37th location to be added to the Darkwood Town Map and requires a Game Level of 105 to unlock.
Unlocking and Open Quest
Edit
The Player unlocks Photo Studio upon reaching Game Level 105.
A quest will be given by Anna Sherwood to help find the missing Photo Studio Key to open its doors.
The Key is obtained by exploring any of the other unlocked Hidden Object Locations and successfully completing it.
Once you have the Key to Photo Studio, you can open the new Location.
Tapping on the Icon for the Location on the Darkwood Town Map will bring up the 'Open' Window for the Location. Press 'Open' to play.
The location requires only a set amount of Energy to play. The amount of Energy required to play will increase as the Location Rank of the room increases.
The following is a list of Hidden Objects that can be found in Photo Studio. Depending on the Rank and Game Mode you may not have to find all the items in one play of the Location.
5
6
Blowtorch
Brooch
Bugle
Candlestick
Clutch
Coat of Arms
Dragonfly
Drawtube
Fan
Gramophone
Horse
Lemon
Lyre
Medal
Men's Hat
Necklace
Rope
Scissors
Sewing Machine
Shoe
Sun
Train
Tray
Each hidden object item usually has 2 different versions that alternate randomly. Morph mode has its own items that need to be found, separate from those listed above.
Collection Item Sets
Edit
Listed below are the Collection Item sets specific to the Photo Studio location. note a random special fixer is also awarded when a collection is combined for the first time.
~~Please add any useful hints here ~~
Ad blocker interference detected!
Wikia is a free-to-use site that makes money from advertising. We have a modified experience for viewers using ad blockers

Wikia is not accessible if you've made further modifications. Remove the custom ad blocker rule(s) and the page will load as expected.