Shack is a Hidden Object Location in the Seeker's Notes: Mysteries of Darkwood game. An old fishing shack once used by Gordon Byron as a clandestine hideaway while on a quest to find his lost love, discover its secrets!
Shack was introduced to the game as part of the Halloween Update in October 2015. It is the 16th location to be added to the Darkwood Town Map.
To unlock Shack, you must be at Game Level 39 or higher.
Unlocking and Open Quest
Edit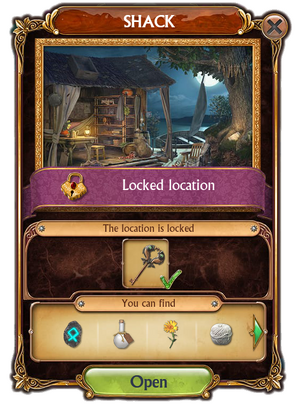 Shack unlocks when a player reaches a Game Level of 39.
A Quest will start to find the Key to the Shack. The Shack Key Quest asks the player to win Hidden Object games of Clock Tower. Once this Quest starts, you may have to win multiple games of the Location before you successfully get the Key to Shack as one of the rewards for winning.
Once you have the Key to Shack, you can open the new Location. Tapping on the Icon for the Location on the Darkwood Town Map will bring up the 'Open' Window for the Location. The requirements to open the Location are listed here. The requirements are usually a Key for the Location.
NOTE: Before the 2016 Saint Patrick's Day update, to Open Shack you needed 90000 coins and 49 energy points in addition to the Key. Now only the Key to Shack is required to unlock the location.
The following is a list of Hidden Objects that can be found in Shack. Depending on the Rank and Game Mode you may not have to find all the items in one play of the Location.
Ax
Bell Pepper
Boots
Bottle
Bowl
Can
Coral
Fish trap
Jug
Knife
Ladle
Log
Melon
Moth
Mug
Orchid
Pan Flute
Pestle & Mortar
Seagull
Seashell
Sheaf of Wheat
Ship's Wheel
Small Broom
Squirrel
Wheel
Morph mode has its own items that need to be found, separate from those listed above.
Collection Item Sets
Edit
Listed below are the Collection Item sets specific to the Shack location. note a random special fixer is also awarded when a collection is combined for the first time.
Ax-have found in tree branches and in hammock
Sheaf of Wheat and Small Broom look very similar
Related