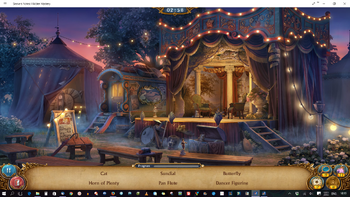 Theatre is a Hidden Object Location in the Seeker's Notes: Mysteries of Darkwood game. Come and take in the delights of a traveling troupe!
Theatre was introduced to the game as part of the Foundation Day Update celebrating the game's very first birthday on July 8, 2016. It comprised the main part of the special event's Timed Challenges offered to Players.
Theatre is the 23rd location to be added to the Darkwood Town Map and requires a Game Level of 63 to unlock.
Unlocking and Open Quest
Edit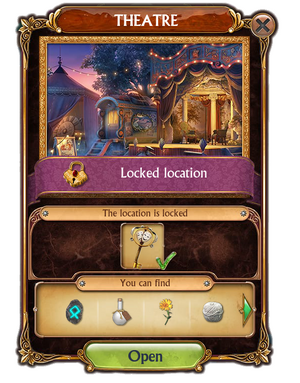 Theatre unlocks when a player reaches Game Level 63. During the Foundation Day special event in June 2016, it was open to Players level 11 or higher.
A quest will be given by Helen for the Player to find the missing Key to the Theatre. The Key can be found by searching any of the other unlocked Hidden Object Locations and successfully completing it.
Once you have the Key, the gray lock on the location will turn golden and you will now be able to access it by tapping on the Icon for the Location on the Darkwood Town Map, bringing up the 'Open' Window for the Location. Press 'Open' to play.
The location requires only a set amount of Energy to play. The amount of Energy required to play will increase as the Location Rank of the room increases.
The following is a list of Hidden Objects that can be found in Theatre. Depending on the Rank and Game Mode you may not have to find all the items in one play of the Location.
Accordion
Arrow
Banner
Basket
Bottle
Butterfly
Candelabra
Carousel
Cat
Crescent
Cricket Bat
Crystal Ball
Cuirass
Dancer Figurine
Flag
Feathers
Fool's Cap
Golden Note
Gramophone
Happy Mask
Harlequin
Harp
Helmut
Horn of Plenty
Jewelry Box
Kerosene Lantern
Lion Figurine
Lock
Lute
Mannequin
Mask
Music Box
Pan Flute
Paper Airplane
Pierrot's Hat
Pendulum Clock
Pipe
Precious Egg
Silver Tray
Shako
Shield
Shoe
Small Bell
Sun
Sundial
Top Hat
Treble Clef
Wooden Horse
Morph mode has its own items that need to be found, separate from those listed above
Collection Item Sets
Edit
Listed below are the Collection Item sets specific to the Theatre location. note a random special fixer is also awarded when a collection is combined for the first time.
Coming Soon...