As you play Seeker's Notes: Mysteries of Darkwood, you will learn how to Trade items with the Darkwood Town inhabitants.
You can earn a number of important Fixers by Trading with the Darkwood Townspeople, which you will need to combine your Collections.
Before you can trade with the Townspeople you need to craft the Item required at one of the crafting stations (Forge, Fortune Teller, Inventor).
Note:Please see the complete List of Crafting Items and List of Trading Items for all available Trades at present.
Townspeople
Edit
As you play and work through the game's Quests, you will be introduced to different Darkwood Townspeople. Once you have unlocked a Towns-person, their icon will float around the Darkwood Town map. To Trade with a Towns-person, simply tap on a floating icon for that Towns-person. This will bring up the Trading Window. You can Trade with a Towns-person as many times as you want, as long as you have the right item to Trade. Every time you Trade with a Towns-person, their icon will re-appear in a different areas of the Darkwood Town map.
Trading Window
Edit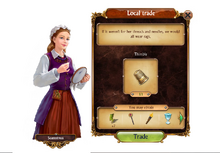 When you tap on the floating icon the Trading Window for that Towns-person will appear. This Window will show you a picture of the Towns-person and a short description of their Trade. Beneath this will be a picture of the Item you need to make a Trade with that Towns-person. Under this picture, you will see how many of the Item you need per trade and how many of those Items you currently have in your Inventory. In the case of the Seamstress in the picture to the right, you need 1 Thimble to make a Trade, and the player currently has 1 Thimble in their Inventory, so 1/1 is shown in green underneath the image of the Thimble. Tapping on the image of the Trading Item will bring up an information box, which will also show you how many you have in your inventory and where you can find the item in the game. Under the image of the Trading item, a 'You can Obtain' box shows images of different rewards you can obtain for making the Trade. You can tap on these images to bring up more information for these items, as well as their names. This information box will explain what the item is used for as well as where else (if anywhere) you can get it in the game. Pressing Trade will reduce the number of Trading Items in your inventory by the amount needed to make the Trade and you will receive (some of) the listed rewards and be brought back to the Darkwood Town map.
If you don't have the Trading Item needed to Trade with that Towns-person, you cannot make the Trade. The game will give you two options: 'Find' or 'Buy'. If you tap on the 'Find' button a blue arrow will give you a hint as to where to find/craft the Item. Alternatively you can tap the 'Buy' botton, which will open a new window allowing you to purchase the Item with Rubies.
Trading When Visiting Friends
Edit
When you visit your Friends' maps, the Townspeople they have unlocked in their game will also be floating about their maps. You can interact with these Townspeople to Trade for items even if you have not unlocked that Towns-person in your game yet. You will receive the reward in your game if you Trade with a Friend's Towns-person.
However, it is important to note that each Trade will count as one of your available charges for that friend for that day. Which means you will be able to charge one less of your Friend's Locations/Puzzles for that visit, and so collect fewer experience points and coins from visiting that friends.
Ad blocker interference detected!
Wikia is a free-to-use site that makes money from advertising. We have a modified experience for viewers using ad blockers

Wikia is not accessible if you've made further modifications. Remove the custom ad blocker rule(s) and the page will load as expected.