Train Station is a Hidden Object Location in the Seeker's Notes: Mysteries of Darkwood game. The screeching whistle of a ghost train beckons at all hours, dare you board?
The art for Train Station was redrawn slightly in an August 2016 update to the game, with the perspective altered and the setting changed from dusk to dawn. The April 2017 update renamed some items as well.
Train Station is the third location to be added to the Darkwood Town Map and Players must be at Game Level 4 or higher to unlock it.
Unlocking and Open Quest
Edit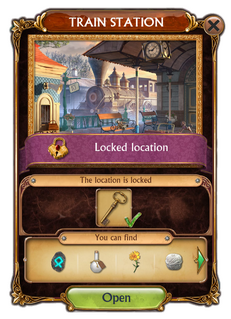 The Player unlocks Train Station upon reaching a Game Level of 4.
A Quest will start to find the Key to the Train Station. The Train Station Key Quest asks the player to search Mayor's Office. Once this Quest starts, you must successfully explore the location in order to obtain the Key to Train Station as one of the rewards for winning.
Once you have the Key to Train Station, you can open the new Location. Tapping on the Icon for the Location on the Darkwood Town Map will bring up the 'Open' Window for the Location.
The location requires only a set amount of Energy to play. The amount of Energy required to play will increase as the Location Rank of the room increases.
The following is a list of Hidden Objects that can be found in Train Station. Depending on the Rank and Game Mode you may not have to find all the items in one play of the Location.
Apples
Backpack
Birdcage
Book
Camera
Concertina (previously called Accordion)
Dreamcatcher
Eagle ( poster)
Easel
Flag
Golden Cupid
Ice Skates
Lollipop
Pigeon
Pinwheel
Pith Helmet
Safe
Shield
Snow Globe
Step Stool
Street Organ
Teddy Bear
Telephone
Trumpet
Weather Vane
Morph mode has its own items that need to be found, separate from those listed above.
Collection Item Sets
Edit
Listed below are the Collection Item sets specific to the Train Station location. note a random special fixer is also awarded when a collection is combined for the first time.
| Collection Name | Item Created | Coins Earned | Rewards | Giftable Collection? |
| --- | --- | --- | --- | --- |
| Spy Equipment | Magic Pendulum | 250 | Spinning Top x2 | Yes |
| Basket of Food | Basket of Food | 250 | Truffles x1 | Yes |
| Tea Set | Tea Set | 250 | Thunder Amulet x2 | Yes |
Eagle refers to a picture of one