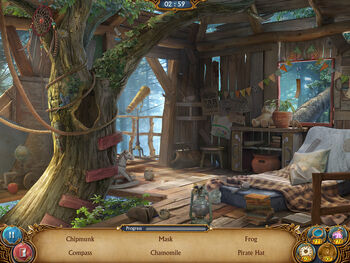 Tree House is a Hidden Object Location in the Seeker's Notes: Mysteries of Darkwood game. Welcome to Ben's humble abode, a wondrous place where imagination runs wild and fantastic adventures await!
Tree House was first introduced by the Sorcerer's Spell Update of the game released on May 9, 2017.
Tree House is the 34th location to be added to the Darkwood Town Map and requires a Game Level of 96 to unlock.
Unlocking and Open Quest
Edit
The Player unlocks Tree House upon reaching Game Level 96.
A quest will be given by Ben to help find the missing Tree House Key which he somehow has lost. The Key is obtained by exploring any of the other unlocked Hidden Object Locations and successfully completing it.
Once you have the Key to Tree House, you can open the new Location. Tapping on the Icon for the Location on the Darkwood Town Map will bring up the 'Open' Window for the Location. Press 'Open' to play.
The location requires only a set amount of Energy to play. The amount of Energy required to play will increase as the Location Rank of the room increases.
The following is a list of Hidden Objects that can be found in Tree House. Depending on the Rank and Game Mode you may not have to find all the items in one play of the Location.
Alarm Clock
Apple
Beetle
Berries
Boots
Bottle of Milk
Bow and Arrows
Butterfly
Candle
Carrot
Cat
Chamomile
Chipmunk
Compass
Crescent
Cube
Cup
Dog Figurine
Dragonfly
Frog
Globe
Gloves
Hairbrush
Kettle
Kite
Lemon
Magnifier
Mask
Medal
Pan Flute
Parrot
Pinwheel
Pirate Hat
Prism
Ruler
Saw
Shield
Snow Globe
Spade
Spinning Top
Star
String of Pearls
Trident
Vinyl Record
Wooden Sword
~~Please add to this list if you can~~
Morph mode has its own items that need to be found, separate from those listed above.
Collection Item Sets
Edit
Listed below are the Collection Item sets specific to the Tree House location. note a random special fixer is also awarded when a collection is combined for the first time.
| Collection Name | Item Created | Coins Earned | Rewards | Giftable Collection? |
| --- | --- | --- | --- | --- |
| Artist's Wood | Palo Santo | 0 | Head Mirror x3 | Yes |
| Partner for Ben | Mechanical Beetle | 0 | Sheet Music x2 | Yes |
| Signs | Letter from the Informant | 0 | Owl Figurine x1 | Yes |
| Chasing after Carl | Light Bomb | 0 | Diagram x 5 | Yes |
~~Please list any helpful hints here~~
Ad blocker interference detected!
Wikia is a free-to-use site that makes money from advertising. We have a modified experience for viewers using ad blockers

Wikia is not accessible if you've made further modifications. Remove the custom ad blocker rule(s) and the page will load as expected.