Like most proud Grandparents, I love to show off my grandbabies.  I have four grandkids, three girls and one boy.  
Their current ages (June 2017) are 6, 4, 2 and 8 months.  I try to visit them 2-3 times per year, usually birthdays and Christmas but making the 1000+ mile trip is getting more difficult as my mother (age 87) goes with me most times.
Our daughter is home schooling the kids and in addition to normal, everyday activities, the three girls take ballet/tap classes.  They have two recitals yearly (June and December).  Unfortunately, I was unable to attend their June 2017 recital because we had family from my husbands side visiting.  I am anxiously awaiting the DVD's I ordered but it takes 3-4 weeks to get them.  In the meantime, my daughter shared some stills she purchased.
As everyone knows, there is always one child in these types of productions that steals the show and this time it was one of my granddaughters.  I will let you make the determination as to which one it was.
Love those kids!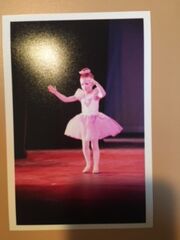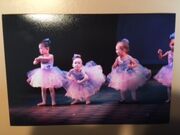 Ad blocker interference detected!
Wikia is a free-to-use site that makes money from advertising. We have a modified experience for viewers using ad blockers

Wikia is not accessible if you've made further modifications. Remove the custom ad blocker rule(s) and the page will load as expected.